The following list details musicians who have been members of the American band Dying Street since its formation on 27 May 2017.
Vocalist David Stefanovic has been the only member who has been a part of every one of the band's incarnations. Stefanovic was dismissed on 2032-33 tour in January 2033 due to fights with management, but he accepted the offer by Colin Zeal and Dojo Yukteswar to join the band again in June 2033.
Mike Barrett was an unofficial member since the band's creation, but he became the official member in February 2018.
The band went on hiatus in April 2024, and the band did the reformation in February 2027 to celebrate the 10th Anniversary.
Rio Coka was the consistent member since July 2017. He and Stefanovic were the longest consistent members until the band's split-up in April 2024. To celebrate the group's 10th Anniversary, Rio became the member again in February 2027. He left the band in July 2027. He was replaced by Jim Bunty. In October 2031, Bunty was arrested for drugs abuse. In December 2031, the band announced Rio Coka will become the band's drummer again.
Note: Bold text shows founding members.
Current members
Edit
Session musicians
Edit
Former members
Edit
Keyboardists
Edit
Guitarists
Edit
Vocalists
Edit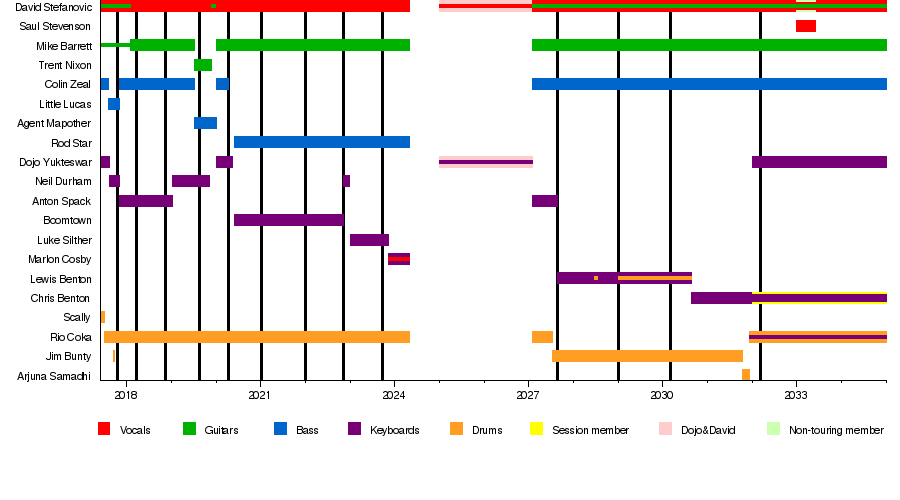 Ad blocker interference detected!
Wikia is a free-to-use site that makes money from advertising. We have a modified experience for viewers using ad blockers

Wikia is not accessible if you've made further modifications. Remove the custom ad blocker rule(s) and the page will load as expected.